Delaware Environmental Institute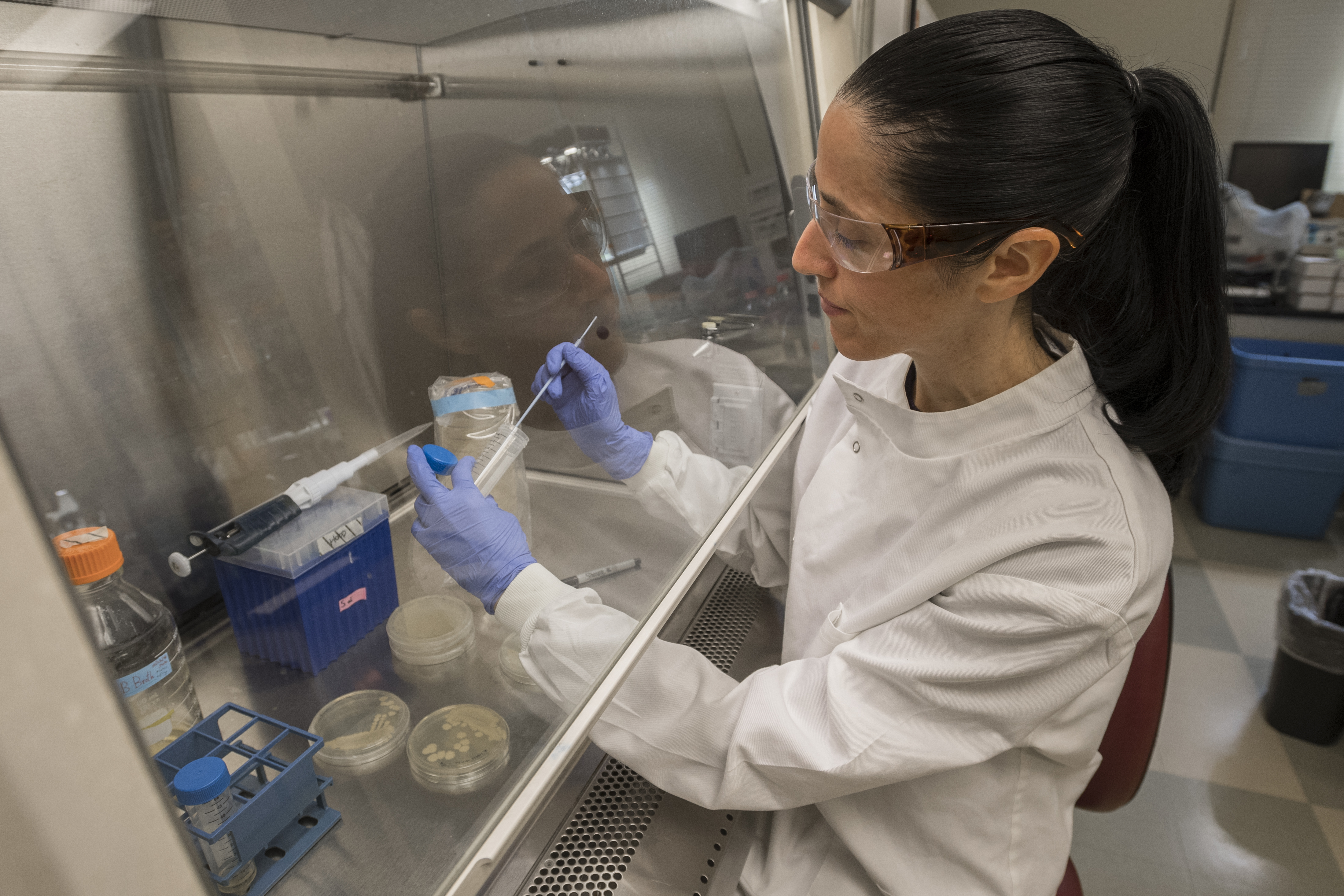 Amanda Rosier, Pioneer in an Unseen World
As an undergraduate at the University of Montana, Amanda Rosier studied oil-degrading bacteria. "Microorganisms are so powerful in helping us solve human-made problems," she said. "There's so much we don't know about them. It's like a whole frontier of an unseen world."
These days, she explores the unseen world of beneficial microorganisms around plant roots as a Ph.D. student in the plant biology lab of Dr. Harsh Bais, with the support of a DENIN Environmental Fellowship. These microorganisms protect the plant from disease and help the plant acquire nutrients.
A growing field of study is examining the relationships between plants and microorganisms as a potential way to grow more food for the expanding human population. Understanding how the microorganisms interact with each other and help the plant grow could be key to addressing this problem.
Rosier works with Medicago plants, a legume related to alfalfa. Medicago has a symbiotic relationship with rhizobia, bacteria that fix nitrogen in plants and get sugars from the plants in return.
Microbiologists know that pea plants—another legume—grown with Bacillus bacteria and a symbiont grow more rapidly than peas without these microorganisms. Rosier set up Medicago to grow with these same organisms and was surprised to find a small negative effect on plant growth. Why would this happen? That became her next research question.
Her experiments showed that the two organisms do not have antibiotic effects on each other. She eventually found out that an enzyme from the Bacillus may interrupt chemical communication by the rhizobia that allows it to make a biofilm that sticks to plant roots. Without the biofilm the rhizobia can't effectively infect Medicago, and without this infection plant growth slows.
The next step in this research is to use the power of new genetic sequencing technology to gain more insight into how the two bacteria interact—whether they are competing, cooperating, or otherwise communicating.
Before Rosier knew about microorganisms and how fascinating they are, she was unsure of her life's path.
She started college as a liberal studies major at the University of Montana, but left after a year. She took a job with a native plant restoration nursery, where she first learned that some bacteria help plants grow. The company applied mycorrhizal fungi to plants to help them grow and survive in tough conditions. Inspired by this exposure, Rosier returned to the University of Montana to earn a degree inmicrobiology.
In 2012, her husband secured a postdoc at UD, and Rosier took a job with a nursery in Pennsylvania. Dr. Bais and a collaborator wanted to set up an experimental trial with the nursery using the Bacillus on seedlings. Rosier expressed an interest in participating, and the move to graduate work in Bais's lab evolved from there.
Rosier expects to finish her Ph.D. in a couple years. She used to think she wanted to work in industry, but lately she's more attracted to the nonprofit or academic possibilities because she wants to see beneficial microorganisms help everyone. She hopes to develop biologicals for open use in challenging environments where access to resources is limited.
Rosier has for several years now enjoyed translating science for the public. She is a Townsend Fellow of the Delaware Biotechnology Institute, where she gave presentations to school groups. She found it inspiring to see the enthusiasm of her audiences—elementary students to college students—and says the experience helped develop her communication skills. She learned to adjust the level of detail for her audience and enjoyed sharing science so much that she thinks of science writing as a possible sideline to her career. Perhaps she will inspire others to explore the unseen world of microbiology.
by Joy Drohan, Eco-Write, LLC