Delaware Environmental Institute
Co-Sponsorship Requests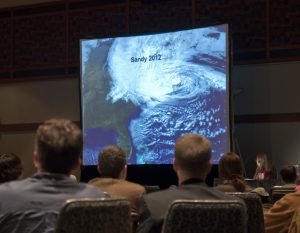 DENIN is pleased to help support special seminars, symposia, and other environment-related events on campus and in the wider community as much as available funds permit. In order to better plan and prioritize the growing number of requests, we ask that those seeking co-sponsorship provide baseline information about your event using the form below.
For most types of events, requests received in January will be given first consideration for the spring semester and those received in August for the fall semester. Requests at other times will be considered in the order they are received but will be dependent upon availability of funds and relevance to DENIN's mission.
Questions to consider before submitting a request include the intended audience for your event, the type of assistance you would like DENIN to provide (financial support, travel expenses, prizes, publicity, etc.), how the event aligns with DENIN's mission, and what recognition DENIN will receive as a co-sponsor.
Please contact a DENIN staff member (Jeanette or Amy) if you would like to discuss your event prior to submitting your request — contact information is available on our staff page.