Delaware Environmental Institute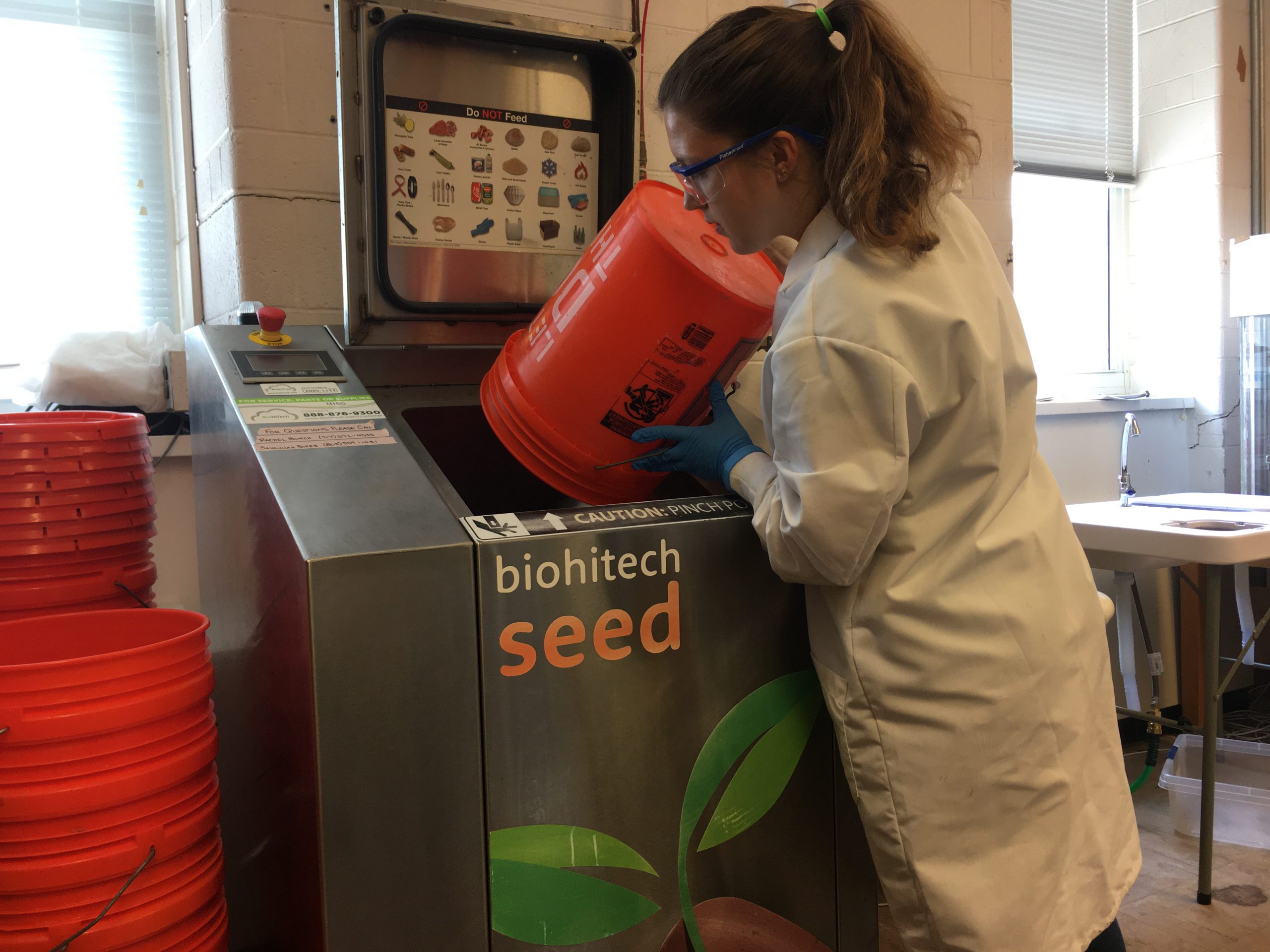 Rachel Burch, Faith in sustainability
Rachel Burch became interested in sustainability because it aligns well with her Christian faith. "I definitely want to do work that I think is meaningful," says Burch. "I want to care for the environment and for other people by combining my love of science and engineering with my faith."
Burch, a 2020 DENIN Environmental Fellow, came to UD to pursue her passion for sustainability. She interviewed with several faculty members and one project caught her attention: trying to produce energy from food waste.
The goal of her Ph.D. project is to use aerobic digestion—breakdown of food waste by microorganisms in the presence of oxygen—to produce biofuel or fertilizer. Burch is working with a BioHiTech digester that is about the size of a washing machine and is made to fit in a restaurant or cafeteria kitchen. The microbial breakdown process ends with liquified waste, which users typically dispose of with wastewater. But the liquid is so high in organic compounds and nutrient content that we would be wasting recoverable resources by simply disposing of it down the drain, hence the desire to put the end product to another use.
Burch's advisors, Dr. Michael Chajes and Dr. Daniel Cha, both professors of civil and environmental engineering, have been working with BioHiTech digesters since about 2018. The lab group is studying the composition of the effluent, the steps in the digestion process, and the microbial community involved with the goal of optimizing the technology to produce recoverable resources.
The team may be able to turn the digestion end product into fertilizer and a number of other resources. A team from UD chemical engineering is assessing whether vanillin, the main component of vanilla extract, can be produced from the effluent. Efficiency and cost-effectiveness are important considerations in developing end products.
"There's a really tangible change that could come from this research," says Burch. "There's already a lot of interest in these digesters. Figuring out all these ways that we might be able to recover resources from the technology has a very immediate and far-reaching impact, and that's exciting to me. This could make a big difference in the way we dispose of food waste."
Burch has begun to study an anaerobic digestion process that the team hopes will be fed by the aerobic digestion process. If this works, the end product would be methane, which can be burned for fuel.
Before the coronavirus shutdown she'd been working for about 2 months to get an anaerobic digester set up for an experiment. In the meantime she's been drafting a journal article and communicating with a local restaurant on Main Street to implement a pilot-study digester. She'll have to start over with the digester when she can be back in the lab full-time.
The research presents challenges. "Because this is new technology, there's not a lot of background research available," Burch says. "I'm having to pave a new path." Sometimes she can tweak what's been done before to apply to this specific digestion process.
Burch is from Lancaster, Pennsylvania, and earned a B.S. in civil and environmental engineering from Messiah College in 2018.
During undergrad she interned at a civil and environmental engineering company, which taught her that she doesn't love desk work. She now aspires to become a professor, probably at a teaching institution where she can also do some research.
Burch's faith also directs some of her volunteer activities. She frequently volunteers for her church and is secretary of the UD graduate student Bible study group. She is an EmPOWER mentor to other graduate students through the College of Engineering.
Burch also coordinates intramural sports for her department. She enjoys all kinds of outdoor field sports and spending time with her husband and dog, Zeke, a husky mix.
by Joy Drohan, Eco-Write, LLC