Delaware Environmental Institute
Graduate Research Symposium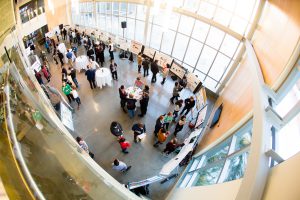 Our annual research symposium for graduate students conducting environmental research at the University of Delaware includes both oral presentations and a poster session with a reception.
Guests are welcome to attend — the event is open to the public. The goal of the symposium is to showcase the work of graduate students and provide them with an opportunity to network with their peers and mentors as well as learn about other environmental research taking place throughout the University of Delaware.
The symposium is generally held in March, and the call for presentations goes out soon after the spring semester begins in February. We invite graduate students at any level and from any field or department who are conducting research related to the environment to present a 5- or 10-minute talk or a research poster on their work. Cash prizes are awarded for the best posters.
The symposium is planned and carried out by the DENIN Fellows.
2018 Schedule of Talks:
Emma Stell, Plant and Soil Sciences
"Soil swelling potential across Colorado: A digital soil mapping approach"
Lane Johnston, School of Marine Science and Policy
"Variation of predation pressure in two tropical marine habitats by a common wrasse found in Belize"
Ashley Kennedy, Entomology and Wildlife Ecology
"What do birds eat? Examining bird-insect food webs to improve avian conservation efforts"
Lauren Mosseso, Plant and Soil Sciences
"Using stable water isotopes to characterize pathways of subsurface P loss in a ditch-drained field"
Ahmed Sabab Sharek, Fashion and Apparel Studies
"Influence of buyer's purchasing practices on the environment-friendly operation of a firm"
Paul Leingang, School of Marine Science and Policy
"The impact of terrestrial watershed input on coastal coral reef recruitment"
Taozhu Sun, Plant and Soil Sciences
"Mechanistic investigation of colloid retention and removal of polydimethylsiloxane (PDMS) from replicas of fresh produce surfaces"
Julia Guimond, Geological Sciences
"Crabs increase carbon export in a warming climate: Insights from a tidal wetland"
Alma Vazquez-Lule, Plant and Soil Sciences
"Greenness trends and carbon stocks of mangroves across Mexico"