Delaware Environmental Institute
DENIN Environmental Fellows
Bridging Science and Society
The DENIN Environmental Fellows Program supports doctoral students carrying out environmentally relevant research at the University of Delaware. The goal of the program is to help prepare students whose scientific research and interests demonstrate a clear link to societal needs and benefits. We anticipate that, over time, DENIN Fellows will pursue diverse careers across academia and the public and private sectors and develop into the next generation of environmental leaders.
DENIN Fellows are selected to function as a team for two years and work together in ways that complement their primary academic programs. Fellows participate in and lead a select number of DENIN events and activities each year, including symposia and seminar series. DENIN provides opportunities for networking with domestic and international scientists and leaders, as well as for professional development in areas such as effectively communicating science. Fellows may also propose new initiatives.
Fellows are selected by a committee of internal and external reviewers. The fellowships include a $30,000 annual stipend. Fellowships are paid over a two-year period, as long as the Fellow remains in good standing academically. DENIN Fellows may not have concurrent RA or TA positions.
Meet our Current Fellows: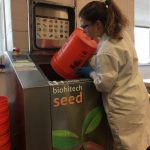 Rachel Burch earned a B.S. degree in  Civil & Environmental Engineering from Messiah College. She is working on using a BioHiTech digester for aerobic digestion—breakdown of food waste by microorganisms in the presence of oxygen—to produce biofuel or fertilizer.  Burch's advisors, Dr. Michael Chajes and Dr. Daniel Cha, both professors of civil and environmental engineering, have been working with BioHiTech digesters since about 2018. Figuring out all the ways that we might be able to recover resources from the technology has a very immediate and far-reaching impact.  This could make a big difference in the way we dispose of food waste.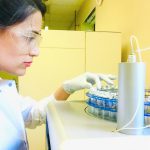 Fatemah Izaditame completed a B.S. in civil engineering and an M.S. in civil and environmental engineering and then worked for 4 years in an engineering consulting company in her native Iran. She is working with Dr. Donald Sparks,S. Hillock du Pont Chair, Francis Alison Professor Professor, Plant and Soil Sciences, Chemistry and Biochemistry and Civil and Environmental Engineering and Director, Delaware Environmental Institute (DENIN) research group to study the cycling and transport of arsenic in heavily contaminated soils and sediments (underwater soils) affected by sea-level rise and flooding. Arsenic exists in sediment in different forms with different toxicities and propensities to move, depending on conditions. Scientists and regulators need to understand the influence of sea-level variations on the cycling, movement, and toxicity of arsenic in coastal environments to develop effective regulations and management strategies.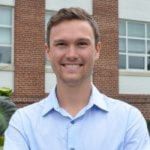 Spencer Moller earned his bachelors degree in Biology. After completing an undergraduate research project at the College of St. Scholastica in Duluth on how electronic waste breaks down, he discovered he had similar interests on glyphosate degradation, with his advisor, Dr. Deb Jaisi, associate professor of environmental biogeochemistry,  He is now studying the degradation of glyphosate, the active ingredient in Roundup herbicide, with the goal of making its breakdown products more environmentally friendly and less persistent in the environment.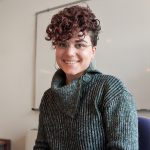 Joanne Norris earned a BA in Sustainability Studies from Hofstra Univeristy and an MA in Climate and Society from Columbia University. She came to UD wanting to work on biodegradable chemicals with environmental applications. She found just the place in the labs of John Rabolt, Karl W. and Renate Böer Professor, and LaShanda Korley, Distinguished Professor, both in the Department of Materials Science and Engineering. She is studying the polymer called PHBHx. It has piezoelectric potential, which means that it can generate a voltage if it's manipulated mechanically. She is working on adding a coating to this chemical to optimize its passive nitrate-sensing ability. The goal is that when it comes in contact with nitrate at a concentration just below the legal limit, the sensor chemical will change shape and generate current. This would signal monitors that nitrate levels are high.
Meet our Past Fellows:
Mohammad Afsar earned his bachelor's and master's degrees from the University of Dhaka, Bangladesh. He is currently working with Professor Yan Jin in the Department of Plant and Soil Sciences to understand the interactions between colloids and soil organic matter under dynamic redox conditions, which frequently exist in wetlands. His research will contribute to improved understanding of how organic matter is released and transported in these environments.
Margaret Capooc

l

 earned her bachelor's degrees in environmental science and philosophy from The University of Scranton. She is a doctoral student in the Water Science and Policy Program working with Assistant Professor Rodrigo Vargas. She is working to understand the patterns and mechanisms behind carbon dioxide, methane and nitrous oxide emissions from wetland soils. Since these are greenhouse gases, understanding the processes that lead to their release to the atmosphere will increase our ability to predict climate change impacts.
Robert Ddamulira earned his bachelors degree at (MUK) Kampala, Uganda, and came to UD for his Ph.D. with literally a world of experience. He worked for 9 years for the World Wide Fund for Nature(WWF) based out of Uganda and advanced to the position of Africa energy coordinator. His research is looking at the possible relationship between oil development activities and deforestation in rural Uganda, bordering the Democratic Republic of Congo, one of the most ecologically important landscapes in Africa. He is currently a student in UD's Center for Energy and Environmental Policy under Professor Lawrence Agbemabiese.
Elvis Ekibade earned his bachelor's degree in Chemical Engineering at the University of Lagos, Lagos, Nigeria. He is a student chemical engineering. His work consists of several projects, from the fundamental to the applied. He is looking at making adhesives from corn stover and sugar cane waste material and examining the use of different catalysts and reaction conditions on these transformation processes.He is currently working with Dion Vlachos, professor of chemical and biomolecular engineering.
Matthew Fischel earned dual bachelor's degrees in environmental soil science and natural resource management from the University of Delaware. He is working with Donald Sparks, S. Hallock du Pont Chair in Soil and Environmental Chemistry, researching how sea level rise will affect arsenic mobility and sequestration in marsh soils and vegetation. These studies will guide future management of coastal wetlands in Delaware and abroad to mitigate marsh contaminant release with future climate change.
Anders Kiledal earned his bachelor's degree in biology from Hillsdale College. He is a student in the molecular biology and genetics program of the Department of Biological Sciences and conducts research on the concrete microbiome. His work focuses on the bacteria in concrete and their potential as bio-indicators of a chemical reaction that causes premature concrete degradation. This work could allow for better monitoring of concrete structures, damage mitigation, and increased knowledge of a structure's "health." He is currently working with Julia Maresca, associate professor of civil and environmental engineering.
Kyra H. Kim is a native of South Korea. During her bachelor's degree program at the University of Texas at Austin, she was drawn to the study of water science, policy, and management. In the Department of Geological Sciences at UD, she works with Associate Professor Holly Michael and Professor William Ullman to understand how sandy beaches regulate the flow and quality of nutrient-rich groundwater from coastal aquifers to the oceans.
Xiangmin Liang earned his bachelor's degree in environmental engineering from Huazhong University of Science and Technology and a master's degree from Illinois Institute of Technology. Working with Daniel Cha, professor of civil and environmental engineering, Liang's research focuses on developing composite materials that are derived entirely from microorganisms growing naturally in wastewater treatment plants. He is evaluating the potential for using filamentous microbes as reinforcement and polymer-accumulating microbes as matrix for composites. Central goals of the research are to produce sustainable materials based on biorenewable resources while reducing waste biomass production.
Eric Moore earned his bachelor's degree in biology and master's in ecology and evolution from the University of Louisville. He is working with Tara Trammel, the John Bartram Assistant Professor of Urban Forestry in the Department of Plant and Soil Sciences. His work focuses on nonnative invasive plants and urbanization-related habitat disturbances, two of the most well-recognized threats to biodiversity in terrestrial ecosystems worldwide. Moore's research includes an experiment designed to reduce secondary invasion of nonnative plants, promote native species diversity, and slow nitrogen cycling rates and losses within the soil following invasive plant removals. The work will help inform forest management practices and strategies for forest restoration.
Lauren Mossesso earned her bachelor's degree in Environmental Geology at University of Mary Washington. She is working with Amy Shober, Professor and Extension Specialist, Nutrient Management, Department of Plant and Soil Sciences. Her work focuses on trying to better understand how phosphorus moves through soil on the Delmarva Peninsula. The goal of her research is to develop and modify best management practices for farmers so they can save money and time by knowing whether phosphorus will be lost through the soil to adjacent drainage ditches if manure is applied to fields. This increased efficiency will also protect water quality and help farmers save money and be environmental stewards.
Jimmy Murillo-Gelvez earned his bachelor's degree in environmental and sanitary engineering at La Salle University, Bogotá D.C., Colombia. He is working with Pei Chiu, professor of civil and environmental engineering, and his research is focused developing a model to predict how quickly certain chemicals found in explosives are degraded in soil. Understanding this degradation process in greater detail will save time and money for site cleanups that are heavily contaminated with explosives chemicals.
Amanda Rosier earned her bachelor's degree in microbial ecology from the University of Montana. She worked at the Montana Department of Natural Resources Conservation's plant nursery and then North Creek Nurseries in Pennsylvania prior to joining the plant root biology lab of Professor Harsh Bais in the Department of Plant and Soil Sciences. Her work focuses on the complex, below-ground interactions of beneficial bacteria with plant roots, particularly interactions that improve plant health. Understanding these positive interactions could lead to reduced fertilizer and pesticide use and more sustainable agriculture.
Alma Vázquez-Lule earned her bachelor's degree in biology from the National Autonomous University of Mexico and a master's degree in geomatics from the Research Center of Geography and Geomatics in Mexico. Working with Rodrigo Vargas, associate professor of plant and soil sciences, Vázquez-Lule's research focuses on the carbon cycle in coastal wetlands. These ecosystems can store large amounts of carbon that can mitigate the effect of increasing atmospheric carbon dioxide caused by human activities. She measures how much carbon, in the form of carbon dioxide and methane, is captured and emitted annually at the ecosystem scale by salt marshes of Delaware. Her work has applications for carbon markets and valuing ecosystem services.
Danhui Xin earned her bachelor's and master's degrees in environmental engineering from Tongji University. She is working with Pei Chiu, professor of civil and environmental engineering, and her research is focused on biochar, a carbon-rich product derived from organic wastes from agriculture or the timber industry. Biochar has been suggested as a means of sequestering carbon and improving soil fertility. Xin's research expands our understanding of biochar's electron transfer and storage properties and explores their potential applications in drinking water disinfection, irrigation and storm water treatment, and soil remediation.
The application period for the 2021-2023 DENIN Environmental Fellowships is now closed. Please check back in spring 2022 for the next application opportunity.
The fellowship is open to current University of Delaware doctoral students with an environmental focus whose advisers are DENIN-affiliated faculty members. Fellows are required to provide a brief written report annually, to lead or attend certain DENIN events, and to make occasional presentations to the DENIN or EPSCoR communities. The fellowship begins in September and provides funding for two years.
An application includes a proposal narrative, resume, and names for up to three references.
Application instructions are available for download here: DENIN Environmental Fellows Application Instructions 2021
The online application page is available here.
Address questions regarding the fellowship or the application process to DENIN Associate Director Jeanette Miller by email.
Support for the DENIN Fellows
Funding for the DENIN Fellows is provided in part through private philanthropy. If you are interested in helping to support the next generation of environmental leaders, please contact Jeanette Miller.