Delaware Environmental Institute
Partnerships
Without effective partnerships, academic discoveries may simply languish in scholarly journals. By combining forces with key stakeholders and decision makers, DENIN works to put sustainable solutions into action.
Building the Case for Seashore Mallow
No location in Delaware is more than eight miles from tidal waters, and the average elevation above sea level is only 60 feet. The state's sea level rise vulnerability assessment concluded that 8–11 percent of Delaware's total land area could be inundated with saltwater by 2100, with the remaining area more vulnerable than ever to flooding and storm surges. Farmers are already reporting fields becoming unproductive due to increasing salinity of the soil in low-lying areas.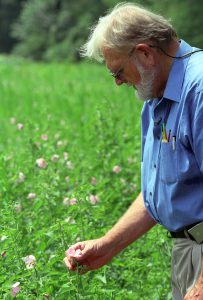 DENIN facilitated a partnership to explore the viability of seashore mallow, a native salt-tolerant perennial, as an alternative crop on salt-compromised lands. The partnership included plant biologists, cooperative extension specialists, poultry scientists, and the state's largest land conservancy organization, Delaware Wild Lands. Undergraduate research interns recruited through DENIN's Environmental Scholars program were involved in several aspects of the project.
Possible consumer products were identified from every portion of the seashore mallow plant, ranging from biodiesel derived from oil in the seeds to fiber for textiles to biodegradable cat litter. The poultry industry is a large part of the Delaware and Delmarva Peninsula economy and may provide a large market for milled stems to be used as bedding material in poultry houses.
DENIN provided a hub for these partners to meet and coordinate their efforts, which will hopefully contribute to the resiliency of rural coastal communities in the face of sea level rise.
Joint Internship with DNREC
In 2011, DENIN and Delaware's Department of Natural Resources and Environmental Control (DNREC) launched a joint internship program that provides environmental policy-making experience to advanced undergraduate and graduate students. DNREC personnel identify projects and serve as mentors to the interns, who are recruited by DENIN. At the conclusion of their internships, the interns present written and oral reports of their work to DNREC's senior management team.
If you have ideas for a joint project to pursue with DENIN, please contact Jeanette Miller, DENIN's associate director.