Delaware Environmental Institute
Our Mission
DENIN serves as an interdisciplinary network of research, knowledge and solutions dedicated to safeguarding the environment.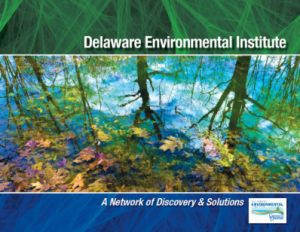 Founded in 2009, we provide academic, government, nonprofit, and industrial partners broad access to experts from multiple disciplines in a collaborative effort to
advance environmental science,
promote environmental education, and
devise innovative strategies for environmental preservation and remediation.
DENIN research assists decision makers by providing knowledge that informs sound and equitable public policies.
By involving students in research through fellowship and internship programs, we are preparing the next generation of environmental leaders.
Our outreach to K-12 educators, students, and the public contributes to developing environmentally literate citizens.
Our vision is to develop a recognized community of faculty, staff, and students in environmental fields, supported by state-of-the-art facilities and effective project management, who can
compete successfully for interdisciplinary research grants,
provide research-based educational opportunities, and
contribute to the economic and environmental health of the state, the region, and the world.
DENIN is advised by an external advisory board composed of representatives from universities, government, nonprofit organizations, and businesses from around the world. The EAB meets regularly to review the progress of the Institute and reports its findings and recommendations to the University of Delaware provost and the vice president for research, scholarship, and innovation.
In 2014, after our first five years, we documented our accomplishments and strategic plan for the future in a 16-page report. Click on the image above to access the electronic version.