Delaware Environmental Institute
Support Our Work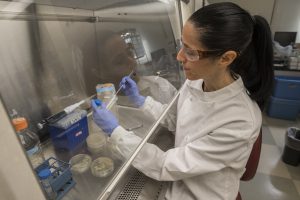 Thank you for your interest in supporting the Delaware Environmental Institute at the University of Delaware. The Institute provides opportunities for students to engage in interdisciplinary research that investigates how Earth functions and sustains life and illuminates our human footprint on the planet.
Your support will help students participate in our research in six critical core areas: biogeosciences, food and water security, climate, habitat and biodiversity, environmental monitoring, and human dimensions. By supporting undergraduate research internships and graduate fellowships, you will be assisting the next generation of environmental leaders as they embark upon careers in science, engineering, social science, public policy, or humanities.
Ways to Give
Donate a gift online by using our online giving form.
Send a check to the Office of Annual Giving, 83 E. Main Street, Newark, DE 19716. Be sure to note "Delaware Environmental Institute" in the note section of your check to ensure your gift is designated correctly.
Give over the phone by calling 866-535-4504.
When you support DENIN, you are providing valuable resources that impact many of our programs!