Delaware Environmental Institute
Opportunities
DENIN strives to be an active hub for environmental information and opportunities within the higher education and research communities and beyond. Our broad network enables us to pull together interdisciplinary teams and partnerships with the necessary expertise to address environmental problems. From basic and applied research, through proof of concept and field trials, to technology transfer and policy analysis, we help make the connections needed to bridge discovery and solutions.
Partnerships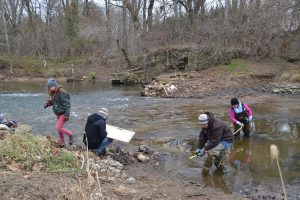 We have formed a wide variety of partnerships with other academic institutions, government agencies, nonprofit organizations, and businesses. We are proud to take part in the University of Delaware's Community Engagement Initiative. On our partnerships page you can see who we're working with, learn about some of our joint projects in more detail, and find out how to contact us if you're interested in working together.
Education & Employment
As a service to students seeking to further their education and experience in environmental fields — and to our allies and partners in the community who offer such opportunities — we are also pleased to maintain the following listings: 
To submit an item for one of these lists, please use our contact form.