Delaware Environmental Institute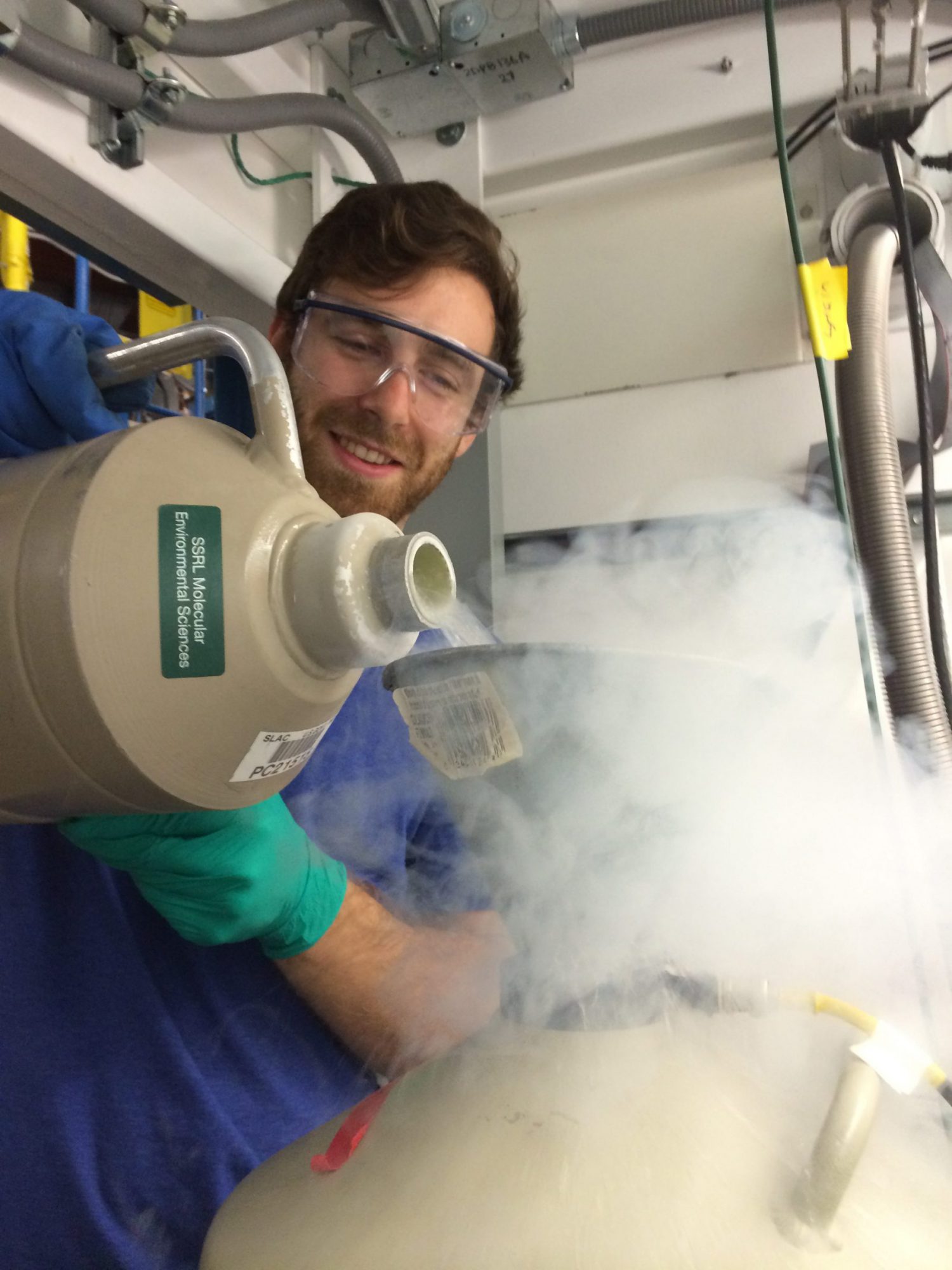 Matt Fischel, Measuring salt marsh metals (and creating new succulent plants)
His love of the environment began with his mom, says Matt Fischel. She was the head of education at the local Delaware Nature Society nature center until just recently. He played outside all the time, and she steered Matt toward environmental summer camps, where he eventually became a counselor. "It was a natural progression to study something environmental," he says. "When I came to UD it was a great opportunity to study the base of the environment, which is soil, and learn how the whole ecosystem grows and is connected by what's beneath it."
Now a DENIN Environmental Fellow, Fischel successfully defended his Ph.D. dissertation in January 2019 with Dr. Don Sparks, S. Hallock du Pont Chair in Soil and Environmental Chemistry. At St. Jones Reserve near Dover, Delaware, Fischel researched how future sea level rise may affect arsenic mobility in marsh soils and vegetation. He also examined how arsenic behaves in marsh soil with increasing salinity and sea level rise, and altered pH and temperature. These studies will guide future management of coastal wetlands in Delaware and beyond to mitigate contaminant release from marshes with future climate change.
Fischel came to the Sparks lab via another family association. His older brother, Jason, started working with Sparks before Matt came to UD, and Matt worked for Sparks throughout his undergraduate years.
Fischelearned dual bachelor's degrees in environmental soil science and natural resource management from the University of Delaware in 2012. Then he worked at a plant biotechnology company in Pennsylvania breeding new varieties of landscape plants. He also spent a summer as manager of an invasive species control program on a small island off the coast of Maine.
He now serves as a postdoctoral scholar and manages Sparks's lab while writing the journal articles stemming from his dissertation. Sparks has been an essential mentor, helping Fischel understand what goes into a successful science project.
Fischel has international scientific experience in several countries. He visited Costa Rica and Tanzania with classes during his undergraduate years, studying links between natural resources and a sustainable economy.
Two years ago Fischel spent 3 months in South Africa studying unique soils near Kruger National Park. He took frequent forays with other botanists in the area around Capetown, which has very high plant diversity, to find and photograph interesting succulents, which have been a passion of his since age 12.
On one of these excursions, he found a new location for the succulent Massonia latebrosa. His sighting was only the second time this rare bulb has been found since it was discovered in 1886, and Fischel found it about 50 kilometers from the first sighting. Plant geneticists are now investigating further.
He has also created six new varieties of succulent plants and has published two papers in international succulents journals about his creations, with another in press. "It's pretty exciting to be able to contribute scientifically to that field as well," says Fischel.
As for a career, Fischel wants to conduct environmental research for a federal agency such as the U.S. Environmental Protection Agency in the western U.S. He likes the focus on the environment there and the greater variety of recreational opportunities. "It's also a good climate for growing succulents," he says with a laugh.
Fischel can often be found on his bike exploring the countryside close up. During college he traveled many weekends to races around New England and around the country. He still rides almost every day.
by Joy Drohan, Eco-Write, LLC
Photo: At Stanford University in California, Matt Fischel fills the synchrotron detector with liquid nitrogen. It analyzes the chemical form and distribution of heavy metals in soils and plants. Photo by Jason Fischel