Delaware Environmental Institute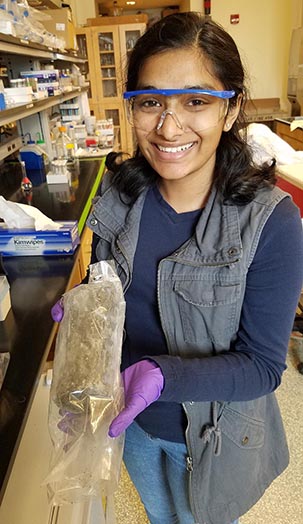 Rucha Wani, DENIN Environmental Scholar, Researching Carbon Storage in Permafrost
"I really want to go to grad school," says UD sophomore Rucha Wani, "but I knew I needed undergraduate research experience to understand what doing research in a university looks like."
Wani applied for and was accepted as a DENIN Environmental Scholar in Dr. Donald Sparks's soil chemistry lab. She is gaining hands-on experience in research planning, preparing soil samples for chemical analysis, operating and problem solving on sophisticated analytical equipment, and presenting research findings.
Wani is part of a team studying carbon and nutrient dynamics in permafrost soil from Alaska. "Permafrost is a large carbon sink," she says. Historically, this soil has remained frozen year-round, but with climate change, scientists expect to see large amounts of this carbon released to the atmosphere.
Her soil chemical analyses are helping the multi-institution research team understand how the elements interact in these soils. For example, when some chemical compounds bind with carbon it typically stays in the soil, but carbon tends to be released under changing environmental conditions, so it's important to understand relative abundances of carbon compounds in the soil.
Wani is driven by the desire to know more about the natural sources and sinks of carbon in the environment, as opposed to the anthropogenic sources. This is important as we try to limit our carbon footprint.
As a marine science major with a minor in chemistry, Wani's experience on this project will give her a great foundation to build on, says Tyler Sowers, Ph.D. candidate in environmental soil chemistry and Wani's graduate student mentor. "The best thing about Rucha is that she's very enthusiastic to do anything we ask of her. On the first day, she jumped right in."
Wani values the opportunities the Environmental Scholars program provides to interact with graduate students and postdocs. She feels comfortable asking them for feedback on applications for summer internships and with research presentations. She especially likes that they include her in the research planning process, so she understands better why they're doing the various experiments.
The Environmental Scholar program has taught Wani that she loves doing research. She aims to become a research scientist with the National Oceanic and Atmospheric Administration.
She's already planned the next big step in her development as a marine scientist. In spring 2020, she'll spend 6 weeks in classes at Woods Hole Oceanographic Institution through Boston University and 6 weeks on a research ship off the coast of New Zealand in the Sea Semester "Oceans and Climate" program.
Wani keeps busy outside the lab too. Last year she served as coxswain for the UD women's rowing team, steering the boat and guiding the rowers. She still enjoys the sport recreationally, but stopped competing this year because it took too much time from her other pursuits.
She serves as an EnvironMentor–an ambassador for the College of Earth, Ocean, and Environment at university events, hosting prospective students and their families. She also volunteers with the Earth Ocean Environment Club.
Before college, she interned at the Chincoteague Bay Field Station and helped lead intergenerational field camps. "Climate change is what drove me to environmental education," says Wani. The DENIN Environmental Scholar program provides a stimulating growth opportunity to be involved in climate change action from an entirely different angle.
by Joy Drohan, Eco-Write, LLC
Photo file: Rucha Wani-by Elizabeth Coward
DENIN Environmental Scholar Rucha Wani holds a frozen permafrost core sample.
Photo by Elizabeth Coward