Delaware Environmental Institute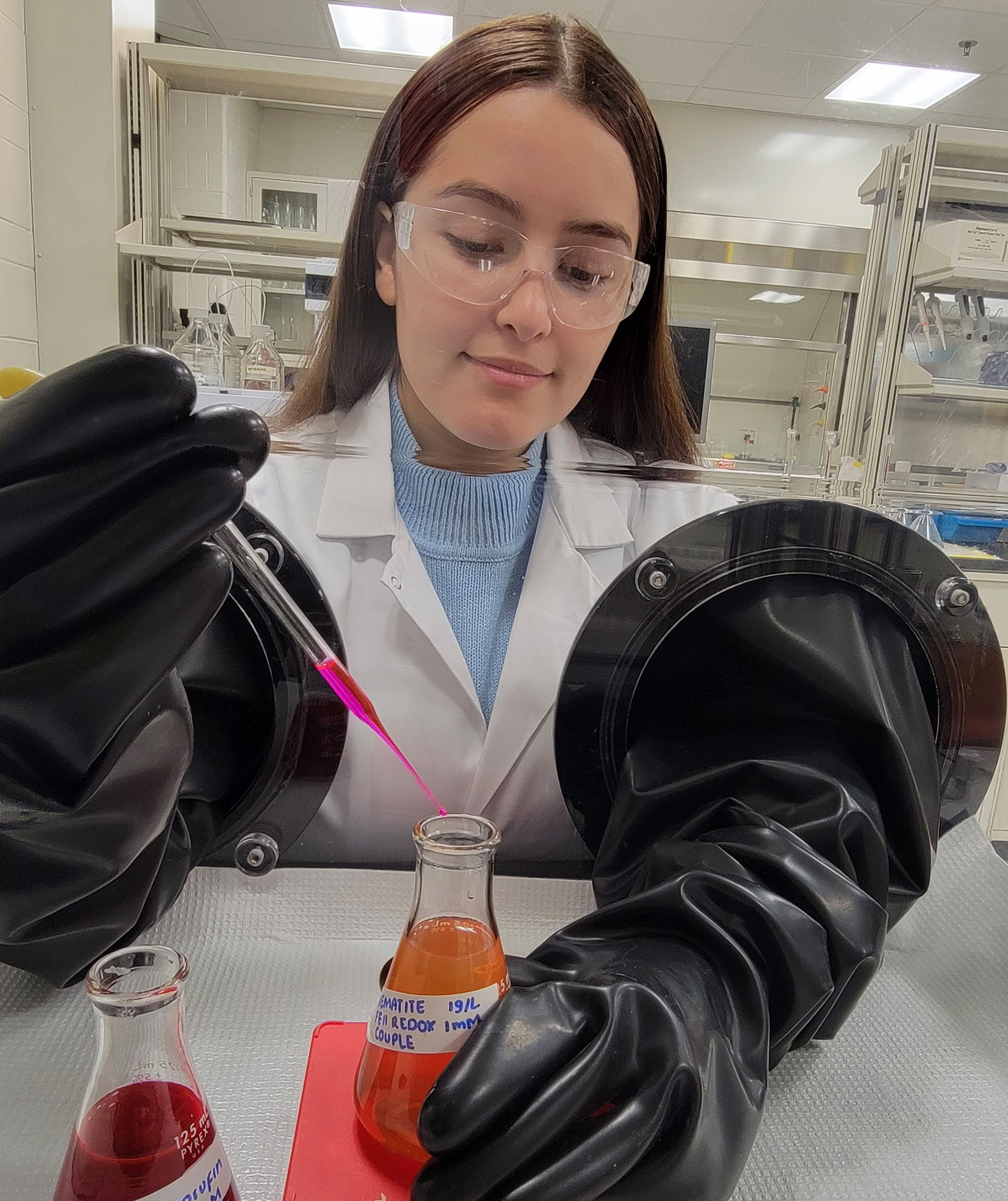 Paula Cárdenas-Hernández: New DENIN fellow is researching how to remove explosives from soil
Paula Cárdenas-Hernández was recently named a DENIN Environmental Fellow in support of her doctoral research on the development of a model to predict the breakdown of explosives in soils.
Cárdenas-Hernández feels that despite growing environmental awareness, our society still normalizes pollution. She points as an example to the Bogotá River, which traverses her hometown of Bogotá, Colombia, and is known for its black and lifeless water. As a young girl, she didn't know that was abnormal until her family took her to the headwaters of the river. There she found a pristine plateau untouched by the wastewater discharges from urbanization and industrialization.
As she got older Cárdenas-Hernández wanted to learn about the causes of environmental problems and how she could help solve them. She began to study environmental engineering, which was a relatively new field in Colombia, and earned a B.S. in environmental and sanitary engineering from the Universidad de La Salle in Bogotá in 2016.
In 2017 Cárdenas-Hernández came to UD for a summer internship program for Latin American students, encouraged by her undergraduate advisor, Dr. Rosalina Gonzalez. During this internship, she worked in the lab of Pei Chiu, professor in the Department of Civil and Environmental Engineering, who later became her doctoral advisor.
She has been studying the processes that control the fate of explosives in soils and groundwater. Her main goal is to build a model to predict the degradation of explosives in the environment under natural and remediation conditions. Soil and groundwater contamination by explosives and related materials is a worldwide problem.
This research is personally relevant to Cárdenas-Hernández because in Colombia, after 50 years of internal conflict between the government and FARC rebels, thousands of land mines and unexploded ordnance remained across the country. In the U.S., Cárdenas-Hernández notes that military production, training, and testing has left every state with at least one site contaminated with explosives. The cost to remediate these military sites has been estimated at many billions of dollars.
Beyond the predictive model, the knowledge of explosives transformation in the subsurface is essential for assessing the risks of contamination of soils and drinking water resources. Many dyes, herbicides, and other industrial chemicals are structurally similar to explosives, so results from Cárdenas-Hernández's study would also help us understand and predict the fate of other human-made pollutants in the environment.
Cárdenas-Hernández feels that the coolest thing about her research is that it harvests the inherent capacity of nature to heal itself. Soil has the capacity to store and transfer electrons, which can interact with explosives chemicals and break them down.
She is part of a research team that developed a new experimental method to measure the capacity of different soils to accept and donate electrons. This is a big step toward understanding how soil's capacity to transfer electrons relates to its reactivity.
After she finishes her doctoral degree, probably in 2023, Cárdenas-Hernández hopes to work in research as an environmental engineer, to "produce new technologies to treat novel contaminants and apply them to developing countries." She hopes to return to Colombia to contribute to the research community there and to be close to her family.
They serve as her life inspiration. Her mother and grandmother taught her that being a woman doesn't affect what she can do and she should never give up on her dreams. Her three uncles were like fathers to her. They taught her to be strong and speak her mind; to be kind, helpful, and respectful to everyone; and to "dream big and do big."
Cárdenas-Hernández is proud of her personal growth since coming to the U.S. Communicating in English was very difficult when she first arrived. Being an international student at UD has helped her grow exponentially.
She passes some of that wisdom on as a volunteer EmPOWER mentor to help first-year graduate students adjust to their new role. She also serves as the communications officer for the Hispanic/Latino Graduate Student Association, which creates a welcoming environment for the Latin community at UD.
During the COVID-19 lockdown, Cárdenas-Hernández discovered a love for taking care of houseplants. She'd never had a plant before, but now she has more than 50. She enjoys seeing how they adapt to the environment. "I've learned a lot from plants, especially how resilient they can be. This capacity of nature to heal itself is what I want to harness in my research and apply to my life," she says.
by Joy Drohan, Eco-Write, LLC