Delaware Environmental Institute
Environmental Monitoring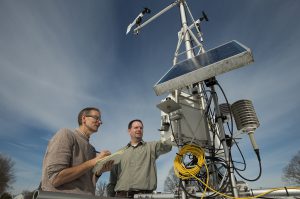 Responding appropriately to environmental challenges requires that we have the data we need to make sound decisions. Researchers affiliated with DENIN are engineering novel monitoring technologies as well as collecting and analyzing the data they record and providing meaningful visualizations and data products that can assist decision makers and emergency managers.
Detecting environmental changes while they are still small is essential to heading off irreversible damage. Our researchers are developing tiny, portable sensors that are convenient to deploy and sensitive to minute changes in the chemistry of soil, water, and air. These sensors can then funnel their measurements to a network of monitoring systems that aggregate the data for use by other researchers, policy makers, and educators. Thanks to researchers affiliated with DENIN, Delaware has one of the densest networks of environmental monitoring stations and technologies in the nation.
Acquisition of precise and accurate real-time data through monitoring, as well as transformation of these data into a fundamental understanding of environmental change, is essential to developing predictive models and new strategies for responding to these challenges. The institute facilitates the necessary interplay of the observational science, the engineering required to make the observations and build the models, and the policy innovations necessary changes to meet these challenges.