Delaware Environmental Institute
Food & Water Security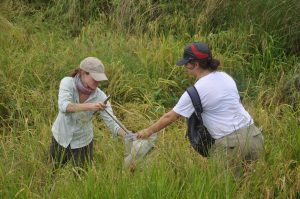 Delaware is located on the Delmarva Peninsula, a strip of land between the Chesapeake Bay on the west and Delaware Bay and the Atlantic Ocean on the east — two waterways that are among the most economically valuable and ecologically vulnerable in the United States. Restrictions on point-source pollution in the region resulted in significant water quality improvements in the l970s and '80s, but both surface and groundwaters in these watersheds continue to suffer from nonpoint sources of pollution such as runoff from agricultural fields and urban roadways. In addition, new threats to water quality have arisen due to the effects of climate change, from changing rainfall patterns to sea level rise and saltwater inundation. 
While Delaware passed historic legislation protecting its coastal zone from further industrial development in 1971, the legacy of Delaware's industrial past remains in numerous brownfields, many located in low-lying coastal areas, where contaminants lie contained in the soil. What will be the fate of these contaminants as they increasingly come into contact with saltwater through rising sea levels or watertables, or through inundation by storm surges, is largely unknown and a primary research area for DENIN affiliates.
Drinking water in Delaware's more hilly northern county largely comes from surfaces waters, while in the state's more agricultural southern coastal plain, wells supply groundwater for drinking and irrigation. The groundwater supply is also vulnerable to saltwater intrusion from offshore and to the excess nutrients contain in agricultural runoff. Monitoring, predicting, and protecting water supplies and quality within the state and the region are major concerns of many researchers affiliated with DENIN.