Delaware Environmental Institute
DENIN Ambassadors
The DENIN Ambassadors are a small group of specially selected volunteers from across the University of Delaware who assist DENIN in reaching out to students. Its members are charged with being:
Promoters — helping to spread the word about DENIN activities and representing DENIN at campus-wide events
Event Planners — carrying out events for students that further the educational objectives of DENIN
Activists — helping to create a sustainable campus by effectively communicating scientific information
A Focus Group — providing input about what UD students are interested in and concerned about
Students may apply to become DENIN Ambassadors throughout the year! Students at any level and from any major are invited to apply via this online form.
The DENIN Ambassadors were launched during the 2011-2012 academic year. The group consists of about a dozen members who work with DENIN staff to plan and carry out educational events for their fellow students on campus. The Ambassadors have included representatives from the Colleges of Earth, Ocean, and Environment; Business and Economics; Arts and Sciences; Engineering; and Agricultural and Natural Resources.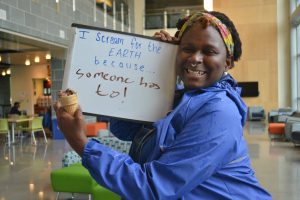 Some of the Ambassadors' many activities:
host film screenings, special speakers, art projects, and performers.
meet and interact with the internationally known environmental speakers hosted through DENIN's Dialogue Series and Distinguished Scientist Lecture Series.
represent DENIN at festivals and events such as Coast Day, Earth Week, and Ag Day.
treat their fellow students to UDairy Creamery ice cream at their "Ice Cream/I Scream for the Earth" event on The Green.
conduct awareness campaigns about ways their fellow students can reduce their personal environmental footprint and make the University of Delaware more sustainable  They have a general commitment to raising awareness about and working to reduce all types of waste on campus.
sponsor student art and video competitions