August 20–23: Biochar 2018
DENIN is a partnering organization in presenting this major biennial conference, the largest event in North America dedicated to advancing the sustainable production and use of biochar through workshops on scientific and engineering research, policy development, field practice, and technology transfer. More information here.
21st Century Clean Energy Solutions
This special event held in conjunction with the Biden Institute at the University of Delaware on May 15 featured a conversation between the 47th Vice President of the United States, Joe Biden, and former Secretary of Energy Ernest Moniz. The Philadelphia ABC news affiliate reported on the event; see the news clip here. The entire conversation was recorded, and we will be posting it on our website soon — stay tuned!
DENIN Affiliates in the News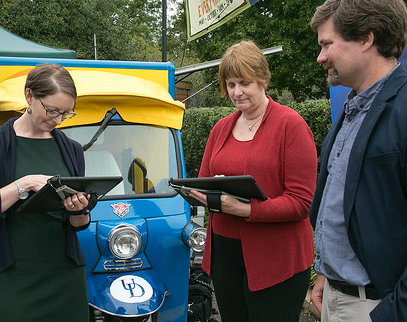 Professor Kent Messer of the College of Agriculture and Natural Resources has been studying process labels on food for two decades. Process labels are voluntary descriptions of how products are made or their origins, as opposed to the mandatory nutrition labels that detail the calorie count and ingredients. His most recent findings about how designations such as organic, fair trade, or cage free are understood by and influence consumers were published this fall in the journal Applied Economics Perspective and Policy and highlighted in an article in The News Journal.