21st Century Clean Energy Solutions
This special event held in conjunction with the Biden Institute at the University of Delaware on May 15 featured a conversation between the 47th Vice President of the United States, Joe Biden, and former Secretary of Energy Ernest Moniz. The Philadelphia ABC news affiliate reported on the event; see the news clip here. The entire conversation was recorded, and we will be posting it on our website soon — stay tuned!
DENIN Affiliates in the News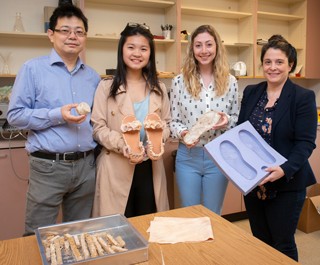 After a shoe is thrown out, it heads to a landfill. But a lot of shoes are made of material that can't decompose. A story from Delaware Public Media highlights a team of researchers, including DENIN affiliates Huantian Cao and Kelly Cobb and former DENIN Scholar Jill Silverman, now a grad student in UD's Department of Fashion and Apparel Studies, who are creating shoes from renewable and biodegradable materials including mushrooms and chicken feathers.