Register for the Grand Challenges Symposium

This is the first in a series of three symposia to take place during 2018–19 that will focus on water sustainability issues in the 21st century. The goal of the series is to bring together students, faculty, and professionals in the mid-Atlantic region to share and discuss current knowledge and research in the field and expose students to potential career paths within water sciences. The first symposium will focus on nearshore environments —
see the agenda, speakers, and registration information here
and stay tuned for more information about future symposia in the series!
DENIN Affiliates in the News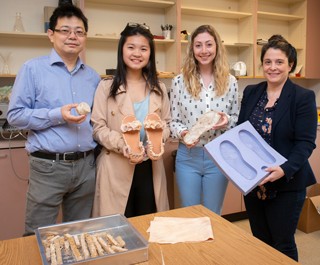 After a shoe is thrown out, it heads to a landfill. But a lot of shoes are made of material that can't decompose. A story from Delaware Public Media highlights a team of researchers, including DENIN affiliates Huantian Cao and Kelly Cobb and former DENIN Scholar Jill Silverman, now a grad student in UD's Department of Fashion and Apparel Studies, who are creating shoes from renewable and biodegradable materials including mushrooms and chicken feathers.